CSLP is excited to announce our first Summer Symposium.
Collaborative Summer Library Program
Summer Symposium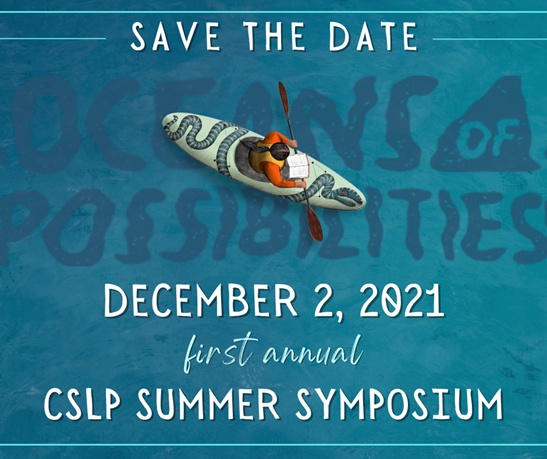 Who is this conference for? All library staff that are interested in summer programming.
Where is the conference? Virtually anywhere with an internet connection.
When is the conference? Thursday December 2, 2021 ~ 11:30 am – 4:30 pm (EST)
When does registration open? November 1, 2021
How much is the registration fee for this virtual symposium? FREE!!!!
Where can I learn more? https://www.cslpreads.org/summer-symposium/
Schedule
Summer Matters: Making All Learning Count
Keynote - Liz McChesney
Elizabeth (Liz) McChesney is the 2021 recipient of the Association for Library Service to Children's (ALSC) Distinguished Service Award. This prestigious award honors an individual who has made significant contributions to library service to children and to ALSC. McChesney is the Outreach and Partnership Consultant for Laundry Literacy Coalition and the previous Director of Children's Services and Family Engagement at Chicago Public Libraries. She serves as Senior Advisor to the Urban Libraries Council and as the Library Advisor to the National Summer Learning Association.
You're Gonna Need a Bigger Flyer: Library Summer Program Marketing Crash Course
Cari Hillman, Community Engagement Director of the MidPointe Library System shares marketing tips and tricks to help make your summer a success. Scalable to libraries of all sizes, this session will outline the power of a comprehensive marketing plan and ways to use CSLP resources for your marketing.
What's Great About Your Community: Extending your connections to youth and families
Join us in an informal conversation about how you can connect with the assets in your community - people, organizations, and places - to build summer services that benefit youth and families. We'll share examples and provide an opportunity for you to explore your own community's assets and to get feedback from others.
Catch the Programming Wave (with Oceans of Possibilities)!
Dive into new programming and display ideas with CSLP! We will provide oversight to the new 2022 Oceans of Possibilities manual, highlight ideas for all age groups, and delve into display concepts.
Sessions will be recorded and made available to registered attendees.
Mark your calendars. Registration will open November 1.
~Sharon
All the best,
Sharon Rawlins, MLS, she/her/hers
Youth Services Specialist for Lifelong Learning
NJ State Library
185 West State St.
P.O. Box 520
Trenton, NJ 08625-0520
...@njstatelib.org" style="color: #2199e8; font-family: Helvetica, Arial, sans-serif; font-weight: normal; line-height: 1.3; margin: 0; padding: 0; text-align: left; text-decoration: none;">sraw...@njstatelib.org
609-278-2640 ext. 116
609-278-2650 – fax