...@01D64B0B.643AD8F0" rel="File-List" />
Free Comics & Graphic Novel E-Books for Children and Teens in New Jersey & Virtual Library Comic Convention July 30th from 1 – 6 pm (SAVE THE DATE: More Details to Come)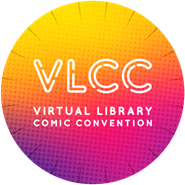 In response to COVID-19 pandemic, the NJ State Library has partnered with BiblioBoard to launch a free e-book library of selected graphic novels and comics available for children and teens in New Jersey during the summer months. As of right now, there are 3,767 titles available to access, with additional content being added soon. You don't need a library card to access them, and there are no holds required. The collection uses geolocation to provide access if you're located in New Jersey.
The library includes a limited collection of simultaneous use e-books from leading children's comics and graphic novel publishers and the San Jose Public Library Graphic Novel Archive from their Graphic Novel Writing Contests.
Visit https://njsl-vlcc.biblioboard.com/ to start reading! Once you click on the link, you can access the entire collection by clicking on the Menu button on the top left-hand side of the page. You don't have to create an account or log in to read what's available – just click on Categories or Curation under Explore. To see the entire list of what's available, click on Read under Explore.
More details are forthcoming on the Virtual Library Comic Convention (VLCC) being held on July 30, 2020 through BiblioBoard. We encourage you to invite anyone in your library community to attend this free event. During the convention, librarians will be talking about grassroots graphic novel creation and local zine publishing programs available through public libraries. More details on the online event will be released soon. Other states also participating in the VLCC include MN, KY, WV, OH, MT, CA, MA, RI and WA.
Sharon Rawlins, MLS
Youth Services Specialist for Lifelong Learning
NJ State Library
185 West State St.
P.O. Box 520
Trenton, NJ 08625-0520
...@njstatelib.org" style="color: #2199e8; font-family: Helvetica, Arial, sans-serif; font-weight: normal; line-height: 1.3; margin: 0; padding: 0; text-align: left; text-decoration: none;">sraw...@njstatelib.org
609-278-2640 ext. 116
609-278-2650 – fax
Pronouns: she/her/hers