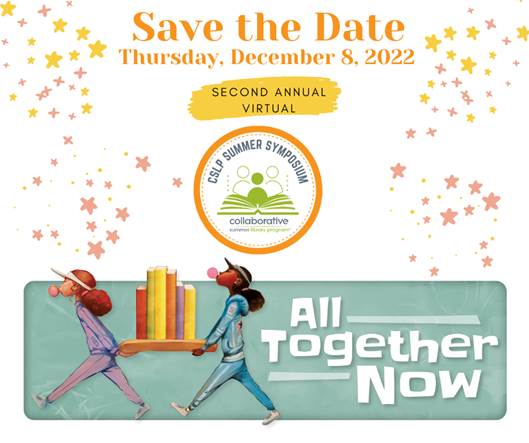 CSLP's Virtual Summer Symposium will be December 8, 2022!
11 am to 4:30 pm EST / 10 am to 3:30 pm CST / 9 am to 2:30 pm MST / 8 am to 1:30 pm PST
Registration Opens on this site Monday, November 14, 2022
Sessions include:
· Keynote Speaker is Tracie D. Hall, Executive Director of ALA! She will address The Library as a Civic Bridge and Community Learning Hub.
· Summer Library Outreach to Underserved Children and Caregivers with ALSC's LSUCTC.
· All Together Now with Intergenerational Summer Programming with King County Library System and SilverKite Community Arts.
· Decorating Together with CSLP State Representatives.
Not able to attend the virtual event live? No need to register – the Symposium will be recorded. Recordings will be available here after the event, or you can sign-up at registration to have an email sent when the recordings are posted.
BUT WAIT! THERE'S MORE!
Be sure to also register, starting November 14th, for Cultivating Affirmation & Belonging for LGBTQIA+ Youth with the Kaleidoscope Youth Center, brought to you by CSLP's Inclusion Committee.
Cultivating Affirmation and Belonging for LGBTQIA+ Youth
Examine statistics related to discrimination within libraries/schools and risks that LGBTQIA+ youth face on a day-to-day basis in their communities, then discuss ways that library professionals can improve the general climate of libraries and summer reading programs through various strategies from simple word choice to organizational policy change. An interactive safe space for all of your questions will be moderated by a CSLP Inclusion Committee member following the presentation portion. Digital resource handouts will be provided.
Outcomes:
· Participants will learn about implicit bias, the complexity and depth of gender, and explanation of acronyms.
· Participants will be given strategies to create a welcoming environment in their Library and their Library's summer reading program for LGBTQIA+ youth.
Presenter:
Kaleidoscope Youth Center in Columbus, Ohio
Director of Education and Outreach: Amanda Erickson
Vision for Community Education and Professional Development: To expand the safe and affirming spaces of Kaleidoscope Youth Center into the greater community by working with organizations, community members, educators, and youth-serving professionals through education and consultation; and empowering youth leaders to organize their schools and local communities.
Summer Symposium 2022 "All Together Now"
Summer Symposium 2021 "Oceans of Possibilities" Recordings
All the best,
Sharon Rawlins, MLS (she/her/hers)
Youth Services Specialist
Library Development Bureau
New Jersey State Library
P. 609-278-2640 x116
E. ...@njstatelib.org" style="color: #2199e8; font-family: Helvetica, Arial, sans-serif; font-weight: normal; line-height: 1.3; margin: 0; padding: 0; text-align: left; text-decoration: none;">sraw...@njstatelib.org
185 West State Street
P.O. Box 520, Trenton, NJ 08625