Last week Auto-Graphics reported a problem with the latest Chrome release. What follows is their fix.
If you are having problems with printing, you can follow the instructions below.
If you are not having problems, I suggest leaving well enough alone.
If problems persist you can contact Auto-Graphics directly. (helpdesk@PROTECTED)
If you have questions for me, please send them to my email (as below). Please do not sent questions to the listserv.
Thanks.
Casey Confoy
JerseyCat – NJSL
609-278-2640 x114
From: AGentusergroup <agentusergroup-bounces@PROTECTED> On Behalf Of Debbie Hensler via AGentusergroup
Sent: Tuesday, August 3, 2021 9:53 AM
To: SHAREit User Group <agentusergroup@PROTECTED>
Subject: AG-UG: Release to address Chrome pop-up problem and reset Workstation Printers
Good morning,
Last night, Monday, August 2, we released an update to address the pop-up issues that surfaced after last week's Chrome release.
Due to the changes made, staff who use Workstation Printers for Avery label printing will need to reset them so their cookies point to the correct server. This should be done regardless of browser used.
The Set Workstation Printer function is in the ILL Admin menu on the Staff Dashboard.
A short instructional video is posted at Staff Dashboard > Support > SHAREit in the ILL Administration Supplemental Information section: AGPrintFormat (05:18).
Chrome's update was made for security reasons to protect against malevolent websites. Last night's release will also handle similar security changes that Edge and Firefox will be making.
Please let me know if you have any questions, or get in touch with Customer Service if you or library staff need assistance.
Thanks,
Debbie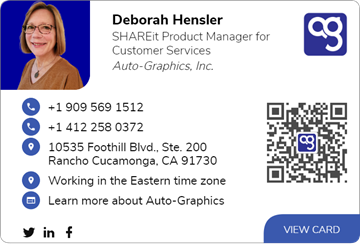 ---
The contents of this e-mail and any attachments are intended solely for the use of the named addressee(s) and may contain confidential and/or privileged information. Any unauthorized use, copying, disclosure, or distribution of the contents of this e-mail is strictly prohibited by the sender and may be unlawful. If you are not the intended recipient, please notify the sender immediately and delete this e-mail.